Candidate for Justice of the Peace - District 6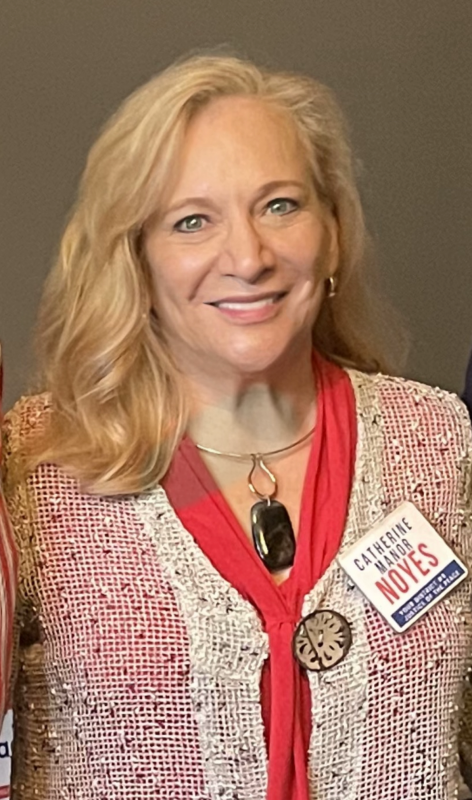 Catherine Noyes is a native of Union County and a graduate of Norphlet High School. She is married to Art Noyes, founder and Executive Director of KidsNGolf.

EXPERIENCE: Catherine's extensive experience in business and economic growth, her commitment to transparency and communication, and ability to have a new perspective and solutions for old problems qualify her for the position of District #6 Justice of the Peace. She has experience working with the fire, police, health and EMT agencies across Union County and the State for disaster management and crisis communication planning. She has experience working with multi-million dollar expansion of MCSA, recruiting new business to Union County, and support of Chamber of Commerce and El Dorado downtown organizations that promote Union County as a tourist and commerce destination.

COMMUNITY: Catherine currently serves on the KidsNGolf Board of Directors, is a Winrock Organization CLEAR Community Leader for the City of Norphlet, and secretary of UCRW. She is a graduate of ULead, served on the visual arts committee at South Arkansas Arts Center, the United Way board of directors, directed the MCSA Healthy Woman Board, and served on numerous health related committees across south Arkansas. Her experience serving the community with educational programs, outreach, ongoing communication and factual updates equips Catherine for the position of JP.

REPRESENTATION: Residents of Norphlet, Smackover, or El Dorado have their city governments addressing important needs and concerns. If you are one of the thousands living in the unincorporated parts of Union County, your Justice of the Peace is your voice at the table. Your vote for Catherine Noyes is a vote for new representation and leadership, fresh perspectives and solutions and your voice at the table.

Platform
Union County residents want access and availability – time and information from our elected officials. They want their concerns heard, funding allocated impartially, and action taken on behalf of voters to address quality of life issues – good roads, improved infrastructure, safety – making District 6 and all of Union County a better place to live.
Catherine has the experience, skills, values and priorities to meet any issues facing the Quorum Court with fresh perspective and transparency.
I believe the Quorum Court is a unique guardian of the County. I look forward to working with the members of the Quorum Court to find new programs to compliment those currently in process and to provide more county-wide benefits and positive outcomes for our neighborhoods and residents.

Contact Catherine